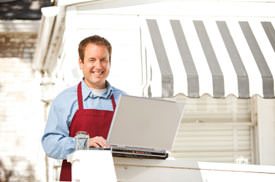 Watch It Bend Studios is a St. Louis based business videographer and corporate video production company offering video production and editing services to small businesses and companies located throughout the St. Louis area. As a small business ourselves with low overhead, we are able to offer our video production and editing services to local businesses at affordable prices.
We deliver quality videos and results that give you the professional image you desire at affordable prices that fit into your small business budget. The business videographer services that are available from Watch It Bend Studios to St. Louis businesses include:
To learn more about any of the services available from our St. Louis business videographer for your small business, company, or firm, please contact our commercial video production company today.
Our Commitment to Small Business Videography
Watch It Bend Studios is a professional business videography company owned and operated by Chris Crawford, a videographer with 16 years experience in the business. After working 10 years for an event videography company shooting and editing weddings, bar/bat mitzvahs, athletics, and other special events, Chris decided to branch out. He began Digital Treasure Video, a video production company offering personal, athletic, and professional video production and editing services to clients throughout the St. Louis area.
As the company grew, Watch It Bend Studios has become an offshoot of this personal video production and editing company. As a business videographer, Chris believes that small businesses should have access to high quality and professional videos for their business without having to work with and pay the high prices from large corporate video production companies. Watch It Bend Studios is a small business videographer company that offers professional quality and affordable prices to meet the needs of any local St. Louis small business or company.
As a St. Louis business videographer company, Watch It Bend Studios is centrally located in Creve Coeur. This convenient location allows us to be about 20 minutes from anywhere in the St. Louis area. For any of our available business videographer services, we can shoot on location in our clients' offices or other preferred off-site location. Clients can also come to our St. Louis office for green screen shooting.
Our Small Business Videographer Services & Philosophy
At Watch It Bend Studios, we believe that putting a video on your website should be affordable. While we are not a large commercial video production company that can produce a lengthy video for a large corporation, which will take 100's of hours and a large production team to produce, we can do great work for your small business.
Our small business videographer services include shooting, editing, and producing professional videos that provide information about your company, help you do business more efficiently, or supplement your business in other ways. We specialize in promotional video production services for small business that include creating high quality introductory and informational videos for your website.
We can also produce:
Other corporate videos including coverage of corporate events, recruitment videos, and employee appreciation videos
More About our St. Louis Video Montage & Video Production Services
At Watch It Bend Studios, we are a leading St. Louis video production company offering high quality video production, personalized service, and affordable packages to our clients. Our commitment to providing customers with these distinct advantages can be seen in every service we offer.
High Quality Video Production: We are proud to offer you the highest quality video production services with our event videography and video montage services. By utilizing the best equipment, we can produce high quality videos with any video montage production, videography, or video transfer service.
Personalized Service: As a small business, we will work directly with you throughout the video production process in order to understand your needs and create a final product that meets or exceeds your expectations. To ensure satisfaction, your completed project will be available for your review before the final payment is due.
Affordable Pricing: We offer our video production, videography, video montage, and video transfer services at affordable prices. See each individual service page or contact us for more info on pricing.
To learn more about any of our business videographer services and to begin working with Watch It Bend Studios for your video production needs, please contact our commercial production company.