Business training videos can help employees, workers, volunteers, and students learn important material and information quickly while ensuring that information is presented in a thorough and consistent manner. Business training videos can be specific to certain tasks or they can explain general information about a company's policies, procedures, and image. These videos can also include business safety videos that provide important safety information to employees and other workers.
At Watch It Bend Studios, we can produce training videos for your local St. Louis business or company. With our business safety and training videos, you can be sure that your employees are trained accurately and consistently. With our business training video production services, we can shoot video for your training video and edit the video adding music, graphics, title sequences, and narration as needed. The final result is an effective and professional training video that your company can continue to rely on for years to come. Our training and safety videos can be provided to you in several different file formats. Available at low, affordable prices, our business training video and business safety video production services are an affordable option for any local St. Louis small business.
To learn more about our corporate video production services, which are available to businesses throughout the St. Louis area, please feel free to contact our commercial video production company. We look forward to working with you to begin your business training video production project.
Business Training Video Pricing Information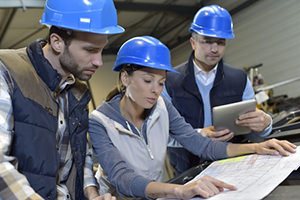 Our video production services for safety and training videos for businesses include both video shooting and editing. These services are available at affordable prices to businesses located throughout the St. Louis area. If you are interested in working with our commercial video production company for your upcoming business training video production project, please view our pricing information below or contact us for additional information.
Pre-Production:
For any on location shooting, either at your business, your home, or at an event space, pre-production is a must. From the time you contact us, until the day of the shoot, we will be in a pre-production mode. Tasks for pre-production include but are not limited to:
Initial meeting to discuss details and ideas
Scouting the location
Writing or modifying the script
Obtaining the necessary permits and permissions
Emails and phone calls to the client and other necessary parties
Preparing the script for the teleprompter
Determining what equipment is needed and buying or renting that which we don't already have
Meeting with all parties, building trust and confidence
Price will vary depending on type of venue, length of video, type of video, and estimated time needed for pre-production. Cost can be between $50 and $400. Estimates can be given in writing and cost for Pre-Production needs to be paid in full once we book your video on our calendar.
Production:
The next phase is production. If we've done our job in pre-production, day of shooting should go smooth and as quick as possible. Production is based on an hourly rate and is available in 1 camera 1 technician, 1 camera 2 technicians, or 2 cameras 2 technicians.
Hourly rates:
1 camera, 1 technician: $245 for up to one hour, including 1 hour of set up, break down and clean up.  Additional hours are $125 billed in 15 minute increments
1 camera, 2 technicians: $295 for up to 1 hour of shooting, including 1 hour of set up, break down and clean up. Additional hours are $175 billed at 15 minute increments.
2 cameras, 2 technicians: $295 for up to one hour of shooting. Additional hours are $195 billed in 15 minute increments. 1 additional hour included for set up, break down and clean up.
Post Production:
Post production includes all the editing to create your final video as well as sending you copies for approval, making changes as needed, and creating and uploading the final video data file. One copy is included. Additional formats needed, including alternative video data file and production on hard disc (Blu Ray and DVD) are additional.
Price: $90 per hour of editing billed in 15 minute increments. Estimates will be available.
Additional formats, as well as copies on Blu Ray and DVD are $19.95 with additional copies of them at $9.95
Benefits of Creating Business Safety & Training Videos
Business training videos and business safety videos are an ideal training option for small businesses and local companies. Creating training videos can help you to quickly, easily, and consistently train new employees, workers, volunteers, and other personnel. You can develop training videos that train individuals on specific tasks, overall policies, safety procedures, and other important information.
The benefits of creating business training videos include:
Combining Visual and Audio Stimulation: Training videos and safety videos can make training more interesting to employees and other individuals. They can help attract and maintain attention so that individuals are more likely to understand and retain information provided.
Teaching Information and Processes More Quickly: Business training videos allow you to provide visual examples along with procedures and other important information. Seeing a visual example or picture can help many individuals process information more quickly reducing the necessary training time.
Ensuring Training Consistency: With the use of business training videos, you can be sure that each employee is given the same information and receives consistent training. This is important for many small companies to ensure that proper procedures are taught and followed.
Offering Step-By-Step Training to Cover Training Topics in Depth: A business training video can allow you to provide more complex and in depth training for safety policies and other procedures than other training methods may allow.
To learn more about why you should develop business safety or training videos, please contact us.